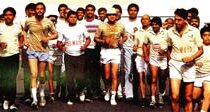 It was as unique as it was inspiring. An endeavour that for the first time used the message of sport to help a human cause; in this case, the children of famine-hit Africa.
Girdling the globe from Warsaw to Washington and Sydney to Singapore, thousands of running shoes echoed a message of hope and solidarity. Time came to a standstill all over, the world on May 25, 1986 as Sudanese runner Omar Khalifa handed the Torch of Hope – lit from a refugee camp fire at Khartoum and carried by him across 12 European cities – to the United Nations. Khalifa's gesture was the starting gun that triggered off 10-km runs in 274 cities across the world, including 17 in India.
In New Delhi, at the same time that Khalifa's torch reached its destination, Flying Sikh Milkha Singh, P.T...
Read More