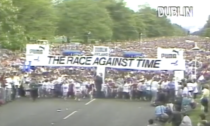 COP26 in Glasgow has come to an end and while there were some signs of progress – with new promises made – the overall outcome was very disappointing. Leaders and policymakers are not acting with the urgency or the ambition needed to limit global temperature rise to 1.5°C. They are more concerned about their popularity, the politics of today and that which effects their immediate future.
Around the world, people are experiencing the subtle and stark effects of climate change. Gradually shifting weather patterns, rising sea levels and more extreme weather events are devastating evidence of a rapidly changing climate and urgent need for solutions.
After all the talk at COP26, we must now see action. Without it, global temperature is on track to rise by 2.5 °C to 4...
Read More