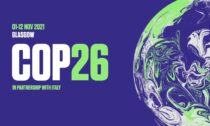 The 1980s were a time of global consciousness and a willingness of individuals to take responsibility for others. It was a time of global events to raise awareness and funds for people in need. It started with Live Aid and continued with Sport Aid, Hands Across America, Canada's Northern Lights and The First Earth Run.
It was an incredible time when people removed responsibility from policymakers and took action themselves – individually and collectively. The movement started with music – Live Aid, Tears Are Not Enough, We Are the World, Do They Know It's Christmas?
But I believed people could do more than listen to music and make donations – they could actively engage in the cause.'I Ran the World' is my story about that time – how the world demanded change and delivered a petition of blistered feet to a UN Special Session on Africa in May 1986.
More importantly, my book sets out a blue print for another global event – for this digital age. An opportunity for individuals to take responsibility again – this time for climate change. This time to save the world!
During COP26 I'm giving my book away for FREE, to anyone who wants to know how they, as just one in 7.9 billion people, can truly affect the world in which they live.
Chris Long