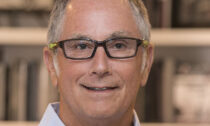 I Ran the World is the remarkable autobiography of Chris Long, founder and chairman of Sport Aid.
Chris was searching for something different when, aged 23, he headed to Greece to pursue his dream but events conspired against him and he returned to London broke and broken. Licking his wounds and searching for something to reboot his soul, he watched Michael Buerk's iconic 1984 BBC report on the famine in Ethiopia and thought 'I can help.'
A subsequent meeting with Bob Geldof changed his life. Chris went to Live Aid and thought it was the best thing he'd ever seen – but he believed people could do more than just listen to music and make a donation – they could actively engage in the cause. And what better vehicle than sport?
In May 1986 he staged the biggest mass participation sports event the world has ever seen. The TV show covering it was the most complex ever produced, involving 19.8 million people in 89 countries, all running at the same time, for the same reason. It raised $35 million for UNICEF and the Band Aid Trust and was a huge and historic success.
I Ran the World describes the challenges of getting sports stars, celebrities, heads of state and governments on board, including Bob Geldof and Band Aid, the United Nations and UNICEF, British Airways and the British royals, as well as numerous other organisations.
It also reveals – in unsparing detail – the devastating reasons behind the ultimate failure of Sport 88 and how it nearly drove Chris to suicide.
But it is also a story of hope – and how you can't keep a good man down.
Chris bounced back with Earthdive, a unique and innovative project to protect our precious underwater environment. Still determined to make a difference he developed a citizen science project to help protect our oceans and reefs.
The book is a passionate, sometimes funny and often insightful look into how one man and a small group of like-minded people really made a difference.
Finally, it provides a blueprint for a future global event, this time harnessing technology and by recognising the lifestyle and short attention span of generation millennial.
It begs a simple question – if you could change the world – would you?