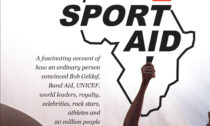 On May 25th, 35 years ago, 20 million people in 89 countries took to their streets to run 10k in protest and to demand action for the famine victims of Africa.
Chris Long, the founder and organiser of sport Aid and Run the World wants us to remember what happened back then – before the internet, social media and mobile phones – and ask ourselves what we should and could do now, in a world that should seek change more than ever.
This week, as a special celebration of the 35th anniversary of Sport Aid, Chris is reading extracts from his book – 'I Ran the World' in a series of 7 videos, to help remember what is possible.