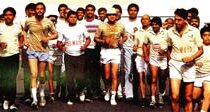 It was as unique as it was inspiring. An endeavour that for the first time used the message of sport to help a human cause; in this case, the children of famine-hit Africa.
Girdling the globe from Warsaw to Washington and Sydney to Singapore, thousands of running shoes echoed a message of hope and solidarity. Time came to a standstill all over, the world on May 25, 1986 as Sudanese runner Omar Khalifa handed the Torch of Hope – lit from a refugee camp fire at Khartoum and carried by him across 12 European cities – to the United Nations. Khalifa's gesture was the starting gun that triggered off 10-km runs in 274 cities across the world, including 17 in India.
In New Delhi, at the same time that Khalifa's torch reached its destination, Flying Sikh Milkha Singh, P.T. Usha and their fellow runners melted into the night in the Race Against Time. They came in all ages and sizes, with the slogan 'I Ran For Africa' on their T-shirts. For one hour at least, mankind ran to the same beat.
The 10-km run ended, but the Race Against Time was far from over. The last fund-raising effort of pop musician Bob Geldof and Band Aid Trust for Africa, the race will continue in India till September, by which time the organisers – Sport Aid India, UNICEF and Sports Authority of India (SAI) – hope to raise Rs 1 crore. Said Razia Ismail of UNICEF: "The response is overwhelming. We never expected this much. Lots of people have come forward. It's a tamasha alright, but a tamasha with a purpose."
Even after the required 3,000 had been registered, runners kept coming and many had to go back disappointed. While  Ustad Amjad Ali Khan contributed a special composition, celebrities like Mansur Ali Khan Pataudi, Amitabh, Jaya and Raj Kapoor telecast ardent appeals on TV and helped in the organisation. Ministers like Madhav Rao Scindia, Jagdish Tytler and Margaret Alva joined in the run. "The sentiment," as Ismail said, "is not one of charity or largesse. It is like helping one's brothers who have fallen on bad times."
As city after city joined in, the figure swelled. In Madras, 5,000 runners were flagged off, one day after a star-studded film music concert and a charity premiere of Kamalhaasan's film Vikram. In Bombay, 3,000 runners including film stars turned up, while Calcutta not only had the largest number of runners – 10,000 – it also organised a football match. In the end, the total number in India was over 50,000.
There were some discordant notes all right. From the shortage of Sport Aid T-shirts to the disappointment of latecomers, there was many a prickly thorn on the racecourse. But, as SAI Chairman Major General Narendra Singh explained, this was because the response had overshot their estimates, throwing the preparations slightly off gear.
There were also the inevitable objections to India going all out for the people of distant Africa when its own people were no better off. But these isolated voices were soon drowned in the general attitude that Pataudi summed up in his remark: "I agree that charity begins at home. But let's not be too selfish. Other people have more serious problems. We are not as worse off as them."
In Bhopal, instead of running, the city went down on its knees to send up a common prayer for the hungry of Africa as well as its own gas victims. And for one brilliant, blinding moment, Khalifa's torch lit up the world.