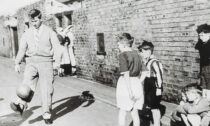 Sir Bobby Charlton is not just England's greatest ever footballer. He is the most compassionate, humble and generous man I've ever met and I had the enormous pleasure and honour of working with him.
In December 1985, I met Bobby for the first time at Birmingham Airport. He had paid for me to fly with him to Mexico City for the World Cup draw. I was trying to put together a project to help support the African famine victims of Sudan and Ethiopia at the time. It was called Sport Aid and Run the World. I was it's founder and organiser. I was trying to get Sport stars and athletes to put on events for a whole week in May 1986 to inspire ordinary people to run 10k through their cities for Africa.
"Come to the World Cup draw with me" said Bobby, "everyone in football will be there".
The World Cup was starting on 31st May and I wanted FIFA to do something.
On the flight over, we talked about the World Cup, his career, that plane crash. I was in awe and ever so slightly star-struck. This was the great Bobby Charlton and I was his travelling companion.
When we arrived in Mexico, Bobby drew crowds wherever he went. Every man, woman and child remembered that amazing thirty yard goal that sunk Mexico in the 1966 World Cup.
The man was a legend.
England were drawn to play Morocco and Poland in Monterrey and then Paraguay at the Aztec Stadium, in Mexico City.
"Would you like to see it?" said Bobby.
The next day he took me to the Aztec Stadium – the Estadio Azteca, as the Spanish call it – the iconic football stadium located in the suburb of Santa Ursula in Mexico City. Since its opening in 1966 it had become the official home of the Mexico national football team. It was the largest stadium in Mexico and sat at an altitude of 7,200 ft above sea level. It was regarded as one of the most famous and iconic in the world. It was the first to host two FIFA World Cup Finals in 1970 and 1986.
My England team were going to play here but for now I was standing on the centre circle with the great Bobby Charlton.
It was empty but still imposing.
Roughly 108,000 seats surrounded us and seemed to go up and up forever. I could feel the Azteca as the intimidating fortress it must have been on match days. An amazing atmosphere created by the passionate fans of the home side with opposing teams wilting under the pressure – to say nothing of the heat, altitude and smog of the city.
I stood in silence with Bobby.
Me, dreaming of what could have been.
Him, just remembering what he had done.
The next day we presented our idea of an all-stars match ahead of the World Cup finals. It could easily precede the opening ceremony and world football could make its own personal gift to Africa, together with a donation to the Mexican earthquake victims. A massive earthquake had hit the city just weeks before.
The World Cup was to start on May 31.
A week before would be great.
All the teams would be in Mexico by then.
It would make it easy to arrange.
Wrong.
Joao Havelange and Sepp Blatter poured scorn on the idea, blaming players, managers and football associations.
"They will not release players before the World Cup. What about injuries?"
It was clear they were going to make it difficult. We left the meeting with them promising to do something but both knowing, in our hearts, they probably wouldn't.
It was really disappointing for both of us.
On Thursday May 17th 1986, a lone African runner lit a torch from the burning embers of a refugee campfire in the Sudan. It signalled the start of a week of sporting events for Africa and culminated on May 25th with a global simultaneous fun run in 89 countries. 19.8 million people turned out and raised $35 million. More importantly, their petition of blistered feet caused governments residing at a UN special session on Africa to cancel $150m of African debt.
It was a massive success.
Bobby continued to support my cause and became a Trustee of my charity. We continued together for another few years and raised another $15m for children's charities around the world.
Eventually, Mr Havelange and Mr Blatter must have been embarrassed by FIFA's absence in Sport Aid. A dialogue commenced shortly after and an annual fundraising match was arranged for my partner UNICEF. That event has evolved and continues to this day with Soccer Aid.
Yes Sir Bobby Charlton, our trip to Mexico wasn't a complete waste of time!
I am so sorry to hear of your recent diagnosis. My dear mother had dementia and I know how challenging it is.
Take care Sir Bobby.