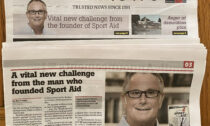 A new challenge from Harlington man who founded Sport Aid
On the surface Harlington entrepreneur Chris Long is a regular guy. But scratch a little deeper and you'll discover an astonishing secret: this dynamic director of Earthdive, a company devoted to protecting our oceans, was the founder and force behind Sport Aid and Run the World, the biggest mass participation demonstration our planet has ever seen.
Inspired by Bob Geldof and Band Aid, Chris organised this game-changing event 34 years ago. It involved almost 20 million people in 89 countries, running simultaneously to demand action for the famine victims of Ethiopia and Sudan.
He has now written a riveting book on how it all happened. I Ran the World details how the former hydroponicist galvanised Bob Geldof, world leaders, celebrities, rock stars and royalty to help change the world.
In the process he not only raised £32 million for charity but also succeeded in pressurising governments into cancelling US$100 million of African debt.
His racy autobiography reveals the triumphs and tragedies behind that turbulent time. How he imitated Bob Geldof to ensure Birmingham's Olympic bid team got on board, convinced the head of UNICEF to partner Band Aid, met Prince Charles and Princess Diana at Buckingham Palace and took tea with Margaret Thatcher at Number Ten Downing Street – not to mention how close he came to committing suicide along the way.
In the foreword, former UNICEF Head of Special Events Dr John C Anderson says: "Chris Long had a vision and a dream. He believed that people could do more than listen to music and make donations, they could actively engage in the cause – and what better vehicle than sport?
"I Ran the World is the story of how one man mobilised a team of 130 young volunteers in a small office in London, secured the support of huge organisations like UNICEF and Band Aid and then mobilised 20 million people around the world to run and demand action for Africa."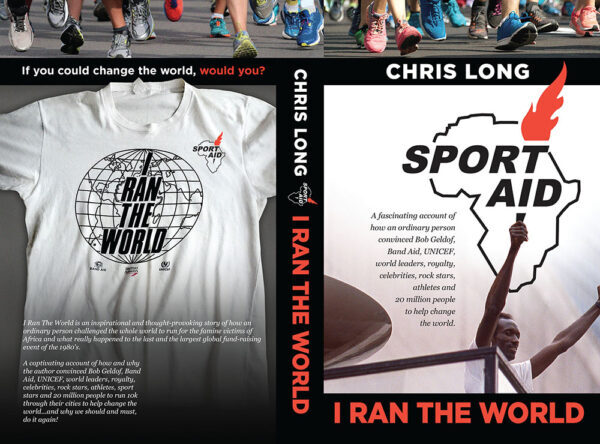 Chris agonised over writing the book for three decades: laying bare the exultation, high notes and happiness behind his superhuman achievement… tempered with the blood, sweat, tears, depression and despair when it all came tumbling down.
But he decided too many people were ignoring the current crises – climate change, the population explosion, the ongoing agony of refugees fleeing religious and ideological wars. And he has challenged today's young people to take up his baton.
"We're living in dangerous times," he says. "And never more so than during this pandemic.
"Finding a remedy is a matter of survival and that solution lies with all of us, not just our elected representatives. We can and must change the world in which we live. That's why I wrote this book."
I Ran the World by Chris Long is available on Amazon Books.