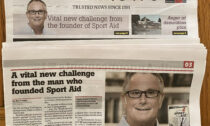 A new challenge from Harlington man who founded Sport Aid
On the surface Harlington entrepreneur Chris Long is a regular guy. But scratch a little deeper and you'll discover an astonishing secret: this dynamic director of Earthdive, a company devoted to protecting our oceans, was the founder and force behind Sport Aid and Run the World, the biggest mass participation demonstration our planet has ever seen.
Inspired by Bob Geldof and Band Aid, Chris organised this game-changing event 34 years ago. It involved almost 20 million people in 89 countries, running simultaneously to demand action for the famine victims of Ethiopia and Sudan.
He has now written a riveting book on how it all happened...
Read More