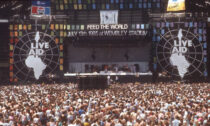 35 years ago today, I was at Wembley Stadium to watch Live Aid. It was an incredible event that changed my life. That day changed everything and life suddenly took a completely new direction.
I write about it all in my book I Ran the World. Chapter 4:
I stood in the crowd at Live Aid just in front of the mixing tower to the right. The view was great and the atmosphere even better. It was a hot, sunny day and the place was buzzing.
This was supposed to be the culmination of a week of fundraising events for Africa. That had been Bob's plan when we met back in February and I was supposed to have put on 10 sponsored runs last Thursday. 
It didn't happen.
I was glad.
Sport can do more than a few sponsored runs in the UK.
I look back now with such fondness on what was one of that decade's most incredible events and one that changed my life forever.
July 13, 1985 was one of the hottest days in the year. 
The Coldstream Guards band opened the show with God Save the Queen and then came Status Quo with Rockin' All Over the World.
We were only 10 minutes into the day and the place was already on fire.
Next Style Council finishing a set with Walls Come Tumbling Down.
Then on came Bob with the Boomtown Rats singing I Don't Like Mondays. 
He stopped just after the line 'the lesson today is how to die'. It was such a poignant moment and the crowd went mad. I clapped so hard I thought my hands would fall off. He finished the song, leaving us all to sing the final words. 
Next Adam Ant, Ultravox and Spandau Ballet with True.
Elvis Costello sang a version of The Beatles' All You Need Is Love, which he introduced by asking the audience to join in.
And so we did.
Then Nik Kershaw and Sade followed by Phil Collins and Sting.
U2 played a 14 minute rendition of Bad, during which Bono jumped off the stage to dance with a girl. The poor kid was being crushed by the throngs of people pushing forwards. Bono saw her and gestured frantically at security to help.
It was a two-song masterclass on how to command a crowd and 30 second lesson in first aid.
Then came Dire Straits with Money for Nothing and Sultans of Swing.
Queen then took to the stage. 
I hadn't heard much of them before but for Queen, Live Aid was a magnificent relaunch, recasting their legacy in a 20-minute eruption of magnificence and passion before a spellbound Wembley crowd – and me. 
Freddie Mercury took the day to yet another level. 
Their fast-moving afternoon set covered the breadth of the band's catalogue, cramming a whole concert's worth of highlights into an amazing performance that included Bohemian Rhapsody, Radio Ga Ga, Hammer to Fall, Crazy Little Thing Called Love and the grand finale of We Are the Champions.
Then, Bowie. A performance that was described by Rolling Stone as his last triumph of the 1980s. He gave up part of his amazing set for a special video. It had been put together by CBC and, as he said at the time: 
"The subject speaks for itself."
What followed was an image of a small African child, lying next to her mother in a refugee camp in Africa. As the soundtrack played the entire audience watched in total silence as the tiny tot, ravaged by famine, tried to simply stand up. The video was directed by 23-year-old Timothy Hutton, who had won an Oscar for his role in the movie Ordinary People. Hutton wanted to direct at the time, so when Ric Ocasek of The Cars suggested it, Hutton had jumped at the chance.
I just cried.
I cried along with 70,000 people and there wasn't a dry eye in the house. It was a truly incredible moment and I decided then that Sport Aid was going to be huge and it was going to be global.
If music can do this, sport can do so, so much more.
The Who played with Kenney Jones on drums, their first performance since they'd officially disbanded after their 1982 'farewell' tour. The set included a chaotic and blistering version of Won't Get Fooled Again.
Towards the end of the show, Paul McCartney's microphone failed as he sang Let it be. For the first two minutes, you couldn't hear a thing and it didn't matter. Bob, David Bowie, Alison Moyet and Pete Townshend came to his aid to sing along with him. We all joined in, while technicians frantically tried to repair his mic in the background.
At the end, Bob was raised onto the shoulders of Pete Townshend and Paul McCartney and the crowd went mad.
It was just perfect.
But despite its enormity, its glamour, its bands – the best in the world – for me, Live Aid was still a concert of superstars on two rich continents, raising money for poor African people who couldn't help themselves.
But they can help themselves.
Some of the best runners in the world came from the Sudan and Ethiopia and I made a pledge there and then that I would empower them to help themselves. 
I just didn't know how yet.
Brian May was quoted as saying: 
"It was the greatest day of our lives."
It was mine as well.
I walked home from Wembley Stadium that night with the music still ringing in my ears. I wasn't sure where my next steps were going to take me but I was excited and scared shitless all at the same time.