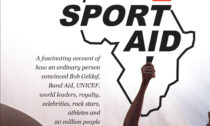 The British Airways Jumbo thumped the runway at Heathrow. I looked up, half asleep and gazed out of the window. Rivulets of rain were pushing across the glass in an uncharted fashion as they tried to make their way to the bottom. It reminded me a lot of my journey over the past year.
It was cold, grey and overcast – a fairly typical warm welcome to London. The plane braked hard and then veered off the runway to find its nominated stand space among its brothers and sisters.
I was exhausted . . . knackered . . . fucked.
This was my second New York roundtrip of the week and everything I had worked so hard for rested on the next few hours.
I had gone over the pitch a thousand times during the very short night but still felt really nervous.
This has to work.
I had no luggage – just a small briefcase containing my notes, toothbrush and prized Filofax – so headed straight out of the terminal to grab a taxi to Bob Geldof's house in Chelsea. My new erstwhile friend Simon had been with me on both trips to New York. He had worked with UNICEF before and it was largely down to him that I had that first meeting with its boss, Jim Grant.
I will never forget that day at the offices of the United Nations. Dressed in faded jeans scruffy t-shirt and old trainers I pitched my big idea.
"Do you want to do a project with Geldof and Band Aid?"
"Sure. How?"
"Easy, just get each of your 63 field offices and national committees to organise a fun run."
"But we're development specialists, not race organisers."
"Don't worry, I'll show you how to do it."
"What's the deal?"
"50/50."
"OK, we're in."
Of course, the meeting in reality was much more than that but that was the essence of it UNICEF – a major UN agency – had just committed 63 countries to my project – the Race Against Time.
It felt like ages since that first meeting and yet it was only two days since I'd met Bob Geldof at Madame Tussauds to give him what I thought was great news. His wax work dummy was being made while we talked. I preferred that version of him – the one that didn't answer back!
"UNICEF have promised their 63 country offices to stage races for us – that's 63 countries just for a start Bob."
"What's the deal?"
"50/50."
"Tell 'em to fock off!"
With that, I headed straight back to the airport and New York to give UNICEF the news and pass on Bob's signature expletive. That lyrical "fock" had brightened up more than one live media interview and was now aimed at the United Nations.
It was going to be a challenge but Lady Luck was smiling on me for the first time in a long while.
Jim was the first to greet us at UNICEF's headquarters, just across the road from the UN tower on First Avenue. He had some news of his own and he looked very excited.
"There's going to be a Special Session on Africa at the UN."
"You serious . . . when?"
"May 26 to 30."
"What? Can we have the UN as a stage on May 25?"
"Yes. Yes, you can. I'll get it for you. I'll deliver the UN."
Well that's it. It's got to be on.
"Is Bob happy with the 50/50 deal?"
"Yeah, he's fine."
We headed straight back to JFK and caught the next 'red eye' flight home. Now the fate of my baby rested on the next few hours.
Traffic started to increase as we got closer to London and I could feel the nerves building. The rain eased a little and there was an eerie silence in the cab. We were both apprehensive, nervous, excited. We had sat up all night, hatching our plan to help change the world.
This has to work.
I stared out the window and started to think beyond the next few hours for the first time in over a week.
Shit, what if he says yes? Can I really pull this off? How do I manage Bob Geldof and UNICEF? It'll be a fucking nightmare. Can I really make all this happen?
I felt sick.
The cab finally pulled up outside Bob's home. He lived in a really nice town house just off Sloane Square in Chelsea. It made my rented flat above a shop in Wembley seem a bit shit in comparison and I started to doubt myself all over again.
Don't. This has to work.
I hit the bell and waited.
Bob let us in and ushered us into the front room. It was quite dark and almost gothic if I recall correctly. Deep red seemed to be the dominant colour and I remember thinking this must be how rock'n'roll stars live. I sat down, with Simon by my side. I could hear Paula upstairs with Fifi but she didn't come down. Bob sat opposite with an expectant look on his face and I realisedsuddenly that the stage was all mine.
I took a deep breath.
"Bob, UNICEF are giving us the UN as a stage on May 25. The following week is going to be the very first UN Special Session on Africa. Heads of state and policymakers from all over the world are coming to the UN to discuss the plight of Africa for the very first time – it's amazing, Bob. What we're going to do, one week before, is get an African runner to light a torch from the burning embers of a refugee camp fire in Africa. Then we're going to take that runner on a journey through the streets of Europe to meet heads of state and policy makers to demand action."
Bob looked interested and I felt the confidence beginning to build inside me. I was on a roll and soon words were coming from my mouth that not even I had heard before.
"Then we're going to fly him to Greece. We're going to light the Olympic torch in Olympia – for the very first time outside of the Olympic Games – then merge the torch of Africa with the torch of Sport Aid at the Parthenon."
I was winging it.
"Then we'll build that momentum during the week as he meets world leaders, the Pope, Kings and Queens. Finally, on May 25 – on the eve of the very first UN Special Session on Africa – our African runner will run down First Avenue to the United Nations. Bob, you will be there to receive that torch – the torch of Africa. You'll pass it over to president Abdou Diouf, who's chairing the UN Special Session. So, Bob, it'll be like you passing on the responsibility to the governments of the world, telling them to sort out this fucking problem once and for all. This could be your swan-song."
I looked at him.
This has to work.
"You'll then light a cauldron outside the UN. We'll connect with the whole world via TV and satellite and that will be the starting signal for the whole world to run."
Nearly there.
I took a final deep breath, like a conjurer revealing the rabbit from a hat for the very first time.
"We'll put a camera above your head and lift the image to another camera in a hot air balloon… and then to a satellite and then, at that single moment in time Bob, the whole fucking world will run for Africa."
There was silence and then he smiled.
"Now you've got a fockin' show!"
50/50 was never mentioned again and one week later, Sport Aid and Run the World was launched to the world's press.