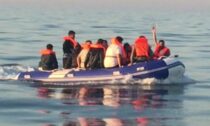 This year, almost 4,000 people have crossed the English Channel, in more than 300 small boats. There was a new record of at least 235 arrivals on 6 August. This will only get worse until we address the heart of the issue.
In my book 'I RAN THE WORLD' I describe how this specific issue caused me to write my book:
CHAPTER 21
It was September 2015 and it was my birthday.
I was 61 years old and when I looked in the mirror my dear old Dad looked back at me.
I turned on the BBC news and something incredible happened.
On the screen was a heart-breaking photograph of a dead three-year-old boy. His body had been washed up on a beach in Turkey.
"Aylan Kurdi and his five-year-old brother, Galip, drowned after their overloaded boat capsized off of the coast of Turkey."
Read More